Spigen is ready for the Google Pixel 6 offer. With the Pixel 6 series launched, spigen released their new Pixel 6 cases collection. As an offer, they are going to include the wall charger, which google did not.
Spigen currently has an offer with 6 different types of cases for Pixel 6 and Pixel 6 pro. With different designs and toughness, they serve their own purpose.
Tough Armor, Rugged Armor,Slim Armor : they are high-quality but bulky cases. they will be able to withstand anything you throw at them . Also, the slim armor contains a back with slide panel to put your credit cards
Liquid Air, Thin Fit : These are the more design and look friendly options. they are not as strong as the tough armor edition. but, still better than those cheap TPU cases we get on amazon.
Ultra Hybrid : Ultra Hybrid offers a clean and clear look where you will be able to show off those awesome colors of the Google Pixel 6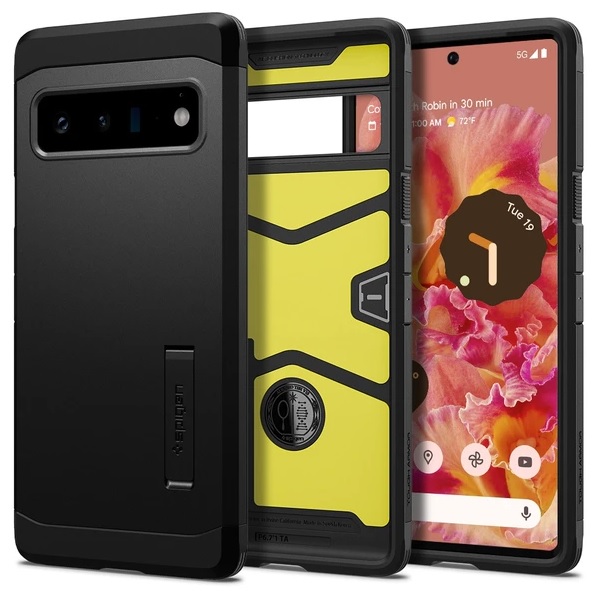 We are past that golden era of getting the compatible power adapter from the big smartphone companies. After launching Pixel 5A, the last Pixel phone to have the power adapter in the box. Google has ditched the idea of putting that power brick, joining Apple and Samsung with the Environmental argument of saving the e-waste. You will have to buy a 30w charger this year. if you want to enjoy those fast charging features of the Pixel 6. Although, your old USB-C Power brick will still work with these phones.
Spigen to the rescue
Spigen has come to the rescue of those who are ordering the google pixel devices. they are offering Spigen Google Pixel 6/6 Pro Cases + Spigen ArcStation Pro 30W Wall Charger for orders more than $30. you can follow below instructions listed below. also, Shipping is free.
The Spigen ArcStation Pro 30W Wall Charger retails for $34.99 w/ purchase. While the Spigen Pixel 6 cases are normally priced, this is a good deal when bundled together. Also, the Charger features GaN technology and is smaller than the standard 18W iPhone charger, works w/ iOS/Android devices
Deal Instructions
Click this link here
Purchase any qualifying Spigen Google Pixel 6/6 Pro Cases w/ prices starting from $24.99
Add your item to cart
When the promotional offer pops up, be sure to add the 'ArcStation Pro 30W Wall Charger' to cart for $0.00
Final price will be shown at checkout w/ free shipping

Note, final price will depend on the case purchased
Offer valid till Oct 31st 2021 or untill supplies last
Just like the Pixel 6 pre-orders, Most cases are currently back-ordered and will ship roughly in 20 business days